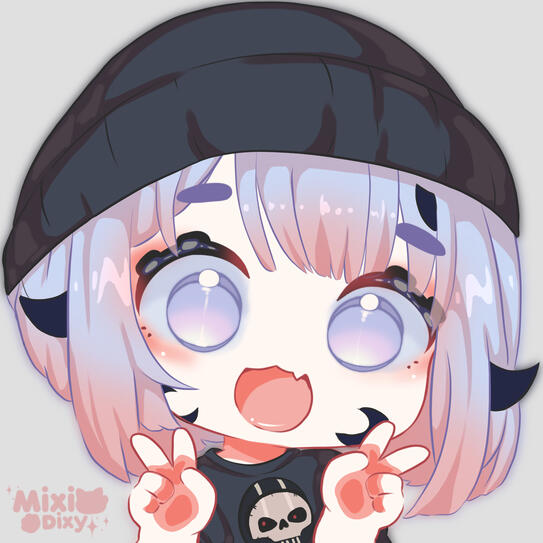 Mixi dixy
---
Digital Artist & Illustrator
Commission Prices
Recommended Seeing my work before asking for a commissionI accept payments via Ko-fi or Paypal if you have any questions, do not hesitate to ask me
Please read the ToS before buying a commission.
Prices + Examples
Headshot/ Icon| $60 USD
(One Character)
Portrait/Bust | $70 USD
(Extra Character: $30 USD)
(Extra Object: $10 USD)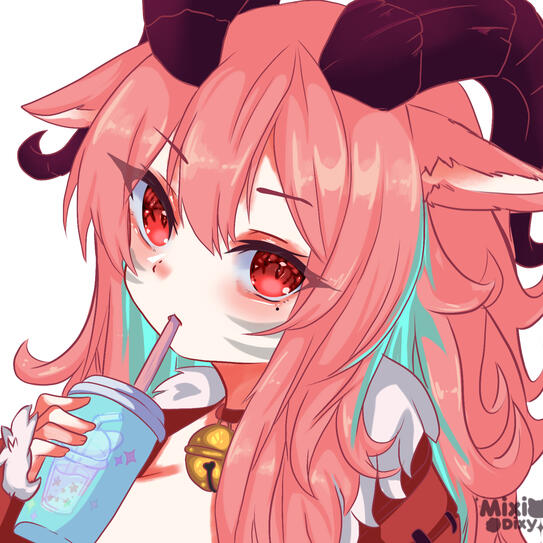 Half-body | $90 USD
(Extra Character: $45 USD)
(Extra Object: $15 USD)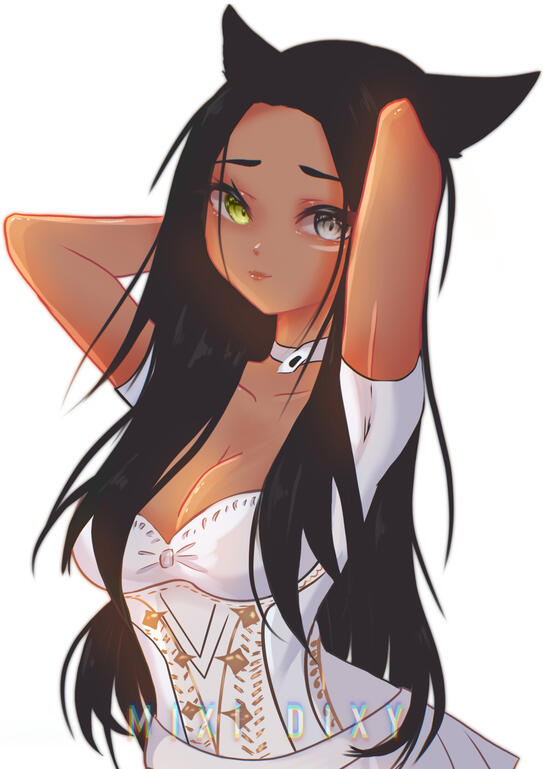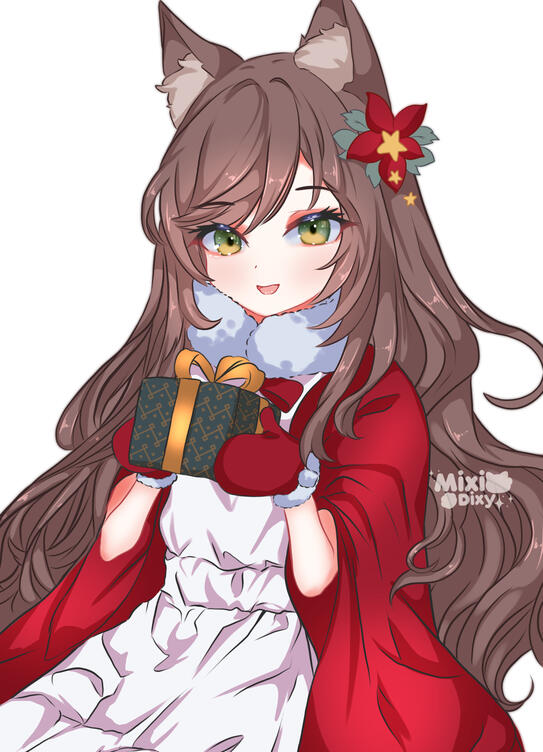 Thigh Up | $110 USD
(Extra Character: $55 USD)
(Extra Object: $25 USD)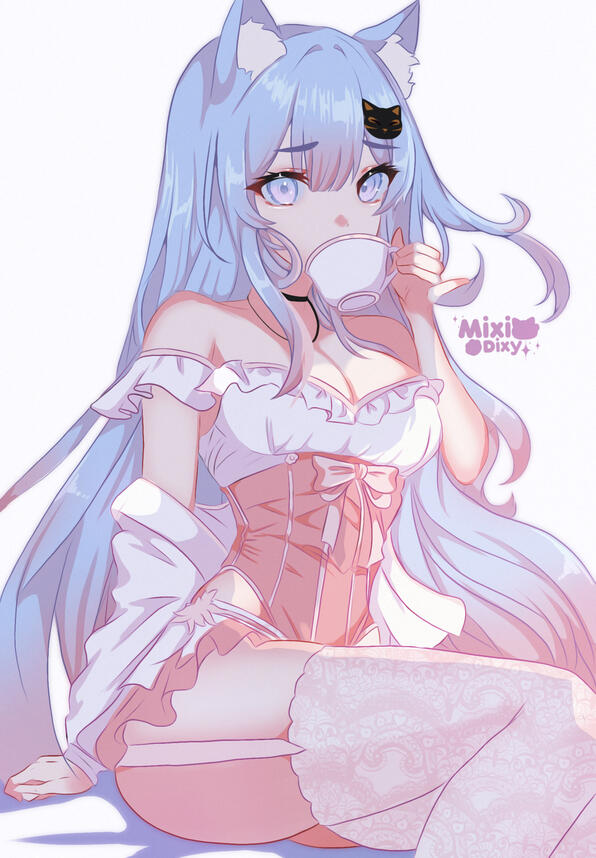 Reference Sheet
$ Depends on difficulty: Starts from $ 160 (OFFER)
Includes:
-Full Body Character ,-Chibi Version , - close-ups (eyes), - One character accessory of note (optional) , - Colour palette, - PNG version without background , - PNG with white background
Extra expressions have an additional cost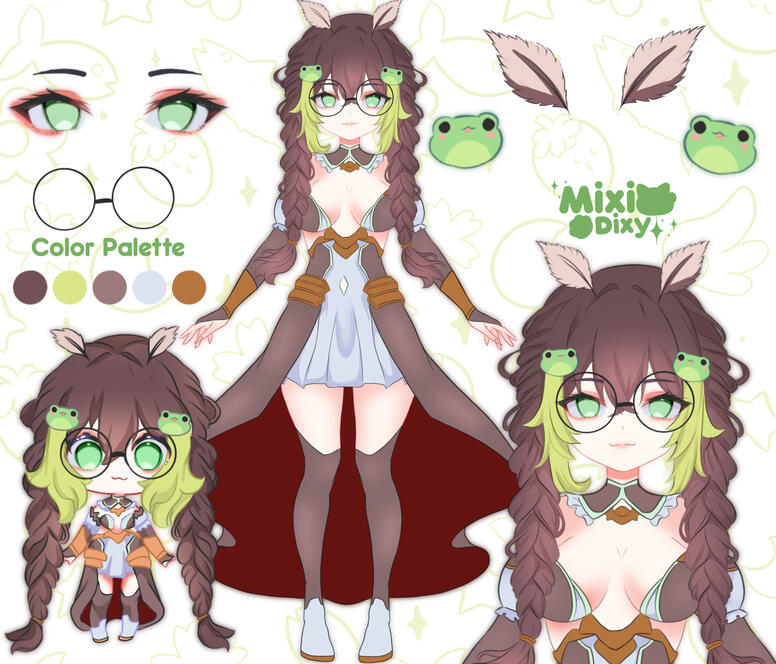 Full Body (Stand Pose)
$120 USD
Model design : Starts From $300
2D Model (No Rig): Coming soon
How Buy?
Send me DM on Twitter @MixiDixyArt or IG @mixidixy🌱 Estimated Delivery Time For :🍃 Wait List : 4 - 6 weeks✨Special Commission: 6 - 8 weeks🌿YCH : 2 -3 week max.
MixiDixy's
Terms Of Service
Update Nov. 28th 2022
By commissioning me in any kind of way, you are agreeing to the terms of service below.
1.- General Terms
• You should provide reference images that are clear when drawing, I will use the images that you provide me. Make sure it is a previously created character (you don't have to describe it yourself without providing references), otherwise it will be taken as character design and will have an extra cost.• I will use the last images you send me : If you have changed clothes, hairstyle, etc. with your character, keep me updated. Recurrently review the Queue list (so you will know when it is your turn) If your character changed drastically at the time of delivery of your commission I will not make major changes.• Armor or Complex Weapons: They have an extra price depending on the difficulty (I will inform you)• Pets: Pets cannot be 100% the same as your pet at home, or the pet in-game since my style is not hyper-realistic. (Do not ask me for the impossible, I cannot know for sure where your pet has each spot) You can add a description regarding colors for example: My dog has a green eye and a yellow eye. (If not clarified, I will base myself on the images you have sent)PaymentsThe payment must be made in full so that you can have a slot available in my queue ListSaid payment will be accepted in USD through the PayPal or Ko-fi platform (which likewise uses PayPal as a payment method)•I do not have refunds, without exception: So if you are not sure of your purchase it will be better not to offer. Please save me problems with paypal, check my drawings before commissioning me and read the ToS carefullyProcessBecause this is not my full time job, I do not usually submit Wips: Provide me images and exact descriptions of what you want me to draw, as I will deliver the finished drawing and you can only make 2 minor changes.• If you want to have a complete Process report: You must inform me and it will have an extra cost of 20 USD, and you must pay attention to your DM or email (wherever the platform that you will contact me) With this you can make more changes before the lineart starts or the coloredWaiting time:
🌱 Estimated Delivery Time For :🍃 Wait List : 4 - 6 weeks✨Special Commission: 6 - 8 weeks🌿YCH : 2 - 3 week max.After your Slot is accepted (this may be extended due to the difficulty of the commission, or case of force majeure and you will be informed of it)• Take the time to check your email, or your DM frequently: If after 8 days of submission, I get no response and the commissioner does not give revisions or changes, the drawing will be considered approved,
any changes the commissioner makes after that deadline will have an extra costCustomer SatisfactionThere may be the possibility that I ask you questions about your character, I am always intrigued to know that there is more than a simple drawing and I am happy to know that my clients are always happy to tell me about it and I want to maintain that enjoyment as before.• If you are not happy with your commission: Clearly I will feel sad about it (sorry, I am soft-hearted), so I want you to see my drawings before asking me for a commission. I will not be able to return your money because your drawing has been delivered (Read Payments Section carefully). But you can inform me what you did not like so that I can continue to improve.• If you have loved your commission : The Tips are not mandatory but they are appreciated, and seeing you happy with your drawing will encourage and motivate me in a great way!What do I offerI draw:
• Original characters, your characters from video games, tabletops, novels, etc.
• Other non-canon characters, canon-non canon pairings
• Drawings about real people
Medium amount of gore, blood and horror (like Scars, bleeding nose, bloody hand, etc)
• FanArt
• Character design (creating a design from description)
• Twitch Emotes/Banners/Icons/PanelsI won't draw:
• Art that contains assault, harassment, rape, racism or art that are damaging / harmful to any race, gender, nationality.
• NSFW (only to previous or trusted customers)
• Fetishes that I am not comfortable with
• I will not draw in the style of another artist or try to imitate them for a commission
• Realism- hyperrealism or semi-realism
• Complex pets (do not ask me for more than I can do, my style is simple and I try to make it adorable, not realistic, the pet you ask will never be 100% the same as the pet you ask for)
• Complex Armors
• Backgrounds (unless it is a complete illustration, which does not appear in the commission prices and will have to be discussed with me to reach an agreement)
• I do not design twitch channels (I can make banners, icons, emotes, etc but never a complete Chanel image) such as opening screens, chat panels, channel animations.
• Logos (I can include them in your image if you already have them designed beforehand)Commercial use
I, as an artist, will always have the rights to the drawing, not the commissioner, this means that you will not be able to sell merchandise, stickers, posters, notebooks, book covers, you will not be able to give my drawings as a reward to your donors, either from patreon, ko -fi etc.• If you want to have the commercial permission: We will have to negotiate it for DM, I usually sell my license for $ 120 dollars per drawing, emote or whatever I have drawn, when paying I will give you the commercial use license where other terms will be included image usage. (will be negotiated in DM)
• With such a license you are authorized to sell merchandise from the drawing.• YCH_ : Commercial use for merchandise remains at $120, but if it is for streaming use, it will be taken as pngtuber.• In the case of the Pngtubers, negotiations must be made by dm
Even if you have the commercial use rights, the artist of the drawing will always be me, and that will not change. Additional Information
• If you want your commission to be anonymous and or not to be post it: you should let me know• Once the drawing is delivered: You can post it on your social networks, use it as an icon, banner, wallpaper, or as you wish as long as it is for personal use.• You cannot resell your commission: without exceptionYou cannot erase, modify, cut my watermark or my signature from your drawingYou cannot edit or ask another artist to modify my art (you can ask me but it will have an extra cost)Your commission cannot be used for any art contest, sale of merchandise of any kind• I can use your commission for an example of my commission sheets: You can let me know if you don't agree with it.I will never sell your commission to other people, nor will I make merchandise with your commission, your commission will be safe.Emotes
Emotes can only be used for the channel for which them were designed, them cannot be resold, loaned or given away,• Twitch Emotes: Them will be delivered in the 3 sizes that twitch requires 112x112 56x56 28x28 and an HD version.• Discord Emotes: Them will have the same price, and will be delivered in the measurements that discord requires with its HD versionThe emotes, once delivered, can be used for a profile image or any personal use that the commissioner wants to make, without modifying or editing the drawing.The emotes will be delivered without a watermark and in png format without a background: any misuse of the emotes (whether they were resold, or put on a channel for which they were not created), the permission to use on twitch will be revoked and I will use a copyright complaint.• Copyright: The emotes have an extra price of 5 usd unlike the chibis icon, because they include a small license for exclusive use for twitch.• If you want to sell merch with emotes: (Read the commercial use license section)AdoptablesRules:> You can:
-Make personal use of the design
-Change its colors or clothes (I can do it with an extra cost)
-Use it as OC or Vtuber
-Use it as a reference
-Rehome the design
-Post it on your social media> You can't:
-Claim it as your own design
-Even if it sells I will still be the one who designed it and that will not change.
-Rebrand it as you own it
- You can't make commercial use of it (I can sell you the commercial use license for an extra cost)
- You cannot edit or delete my signature.
YCH
Currently Available
YCH Cozy Time
$25 USD
Make it emote: + $5 usd
Change any element: + $10 usd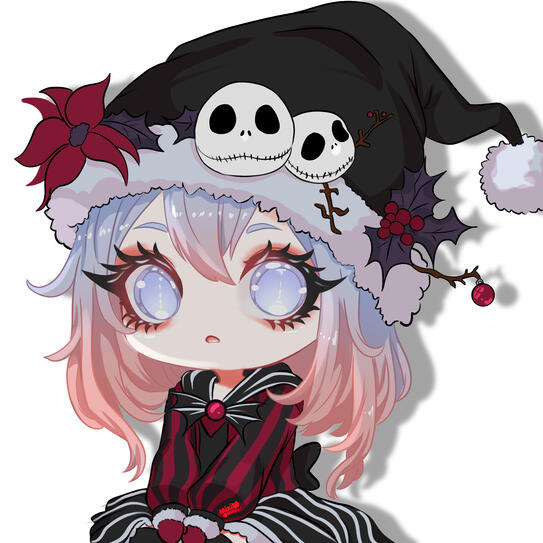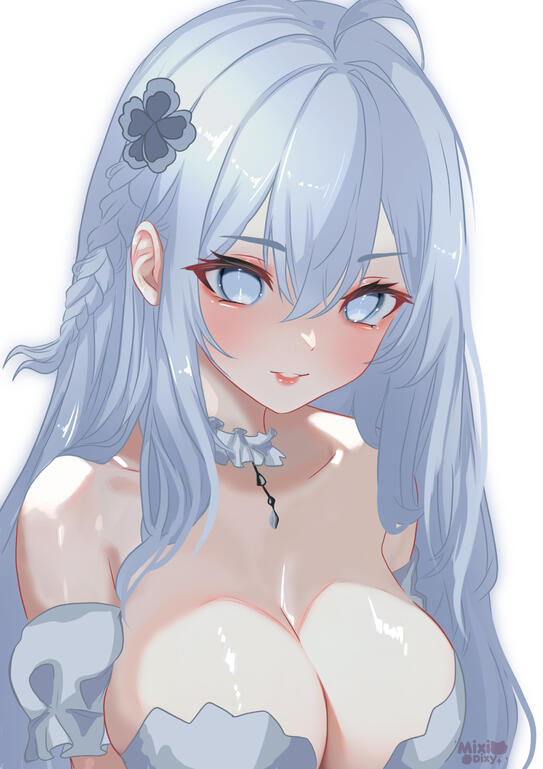 YCH Drink Tea
$30 USD
Make it emote: + $5 usd
Change any element: + $10 usd
Reactive PNG : + $30 usd ( Expression)
How to buy?
It's very simple, just click on the link below.